Parcel Connect Joins Forces with Applegreen rolling out its Pick-Up, Drop-Off (PUDO) and Returns Network to over 120 Applegreen locations across Ireland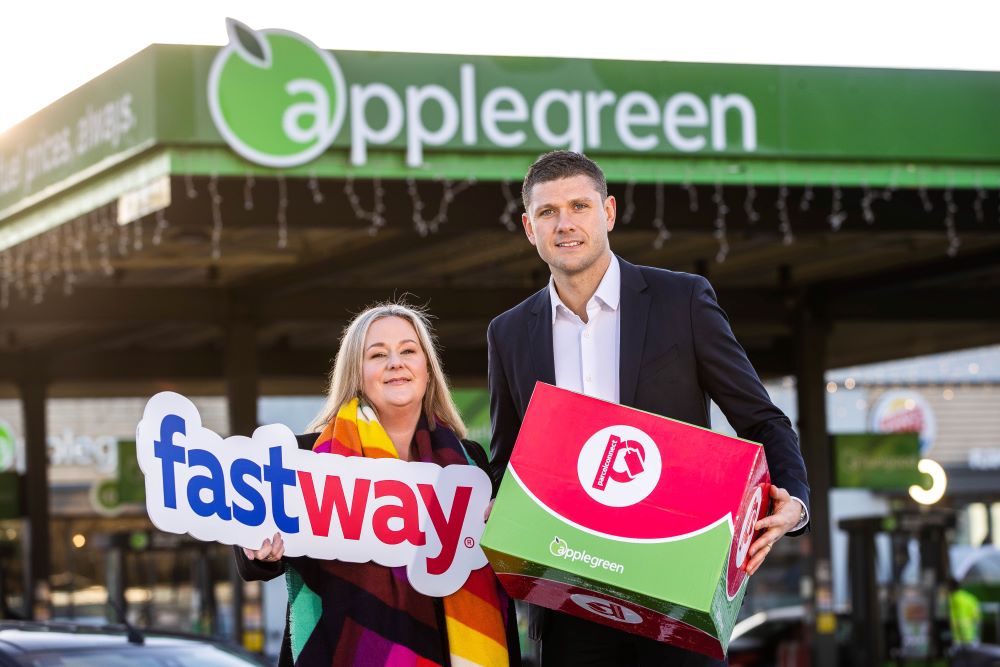 New Applegreen partnership sees over 120 Applegreen locations join the Parcel Connect network, providing parcel recipients more convenience, choice, and flexibility when collecting or returning parcels
Since Parcel Connect's entry into the Irish market in 2014, it has grown exponentially, to become Ireland's largest PUDO and Returns network, with over 1,300 soon to be 1,500 Parcel Connect agents, processing over 2.6 million parcels annually, and growing
Label-Less Returns to be introduced in January, providing retailers and consumers with a more environmental sustainable returns solution
85 percent of the Republic of Ireland population is on average less than 15 minutes from a Parcel Connect store.
Date: 20th December 2022: Today, Parcel Connect, Ireland's largest Pick-Up & Drop-Off (PUDO) and Returns network, with over 1,300 collect, return, and send points around Ireland, is delighted to announce a new partnership with Applegreen, one of Ireland's leading roadside retailers, with operations in the United Kingdom and the USA.
In addition to the extensive Parcel Connect network, consumers across Ireland can now drop into their local Applegreen store, when returning items purchased online from many of the largest Domestic and International retailers including: ASOS, Boohoo, Life Style Sports, Oxendales, Very, and Zalando, that have chosen Parcel Connect as a returns partner.  Irish consumers can also collect their parcels from their local Applegreen store, from retailers offering "Click & Collect" and signed up to Parcel Connect's collection service.
Commenting on the Applegreen partnership, Danny Hughes, Fastway CEO, and Parcel Connect Co-Founder said: "We're delighted to welcome Applegreen to our Parcel Connect network, which complements Applegreen's market-leading offering.  Both Parcel Connect and Applegreen are strong Irish brands, where local communities, and sustainability informs all aspects of the business.  Our partnership with Applegreen is a perfect match.  Both organisations are on a transformational journey, constantly evolving and looking to offer consumers more choice, convenience, simplicity, and that all important seamless customer experience.  Whether that's filling up the tank, picking up the paper, grabbing a snack on the go, or now, returning or collecting an item purchased online.
Hughes added: As e-commerce continues to accelerate, there is an ever-increasing demand from consumers and retailers for a market-leading simple and convenient returns and collection solution, and this is exactly what Parcel Connect offers. Add to this, our commitment to enhance our services and choice to both retailers and consumers, and in line with our commitment to our social and environmental responsibilities, I'm excited to share that in January we will be launching Label-Less returns – a more environmentally sustainable returns solution".
Deborah Howell, Head of Trading, Applegreen Ireland, said, "We are very excited about the collaboration between Applegreen and Parcel Connect. Many of our customers use our stores as a regular stop in their day-to-day busy lives. Having the option to return a package on their daily trip to their local Applegreen store makes the returns process that much easier. Similarly, the click and collect option allows our customers to receive their packages at their local Applegreen, meaning they can be more flexible around delivery times"
ENDS
Parcel Connect, a market-leading solution, is an Irish-born innovation, co-founded by Danny Hughes, Fastway CEO, and set up through Fastway.  The unique advantage of Parcel Connect is the simplicity and convenience of the services, enabling customers to send, collect or return their parcels from their local Parcel Connect agent, when and where it suits their busy lifestyle.  Another unique advantage of Parcel Connect is Fastway Courier Franchisees pickup and drop-off multiple parcels from their local Parcel Connect agents, ensuring a more environmentally sustainable and cost-effective operation. Consumers can also track their parcels, via parcelconnect.ie, providing complete visibility throughout the entire journey.