Fastway Named 'Courier Company of the Year' at the Annual Irish Logistics and Transport Awards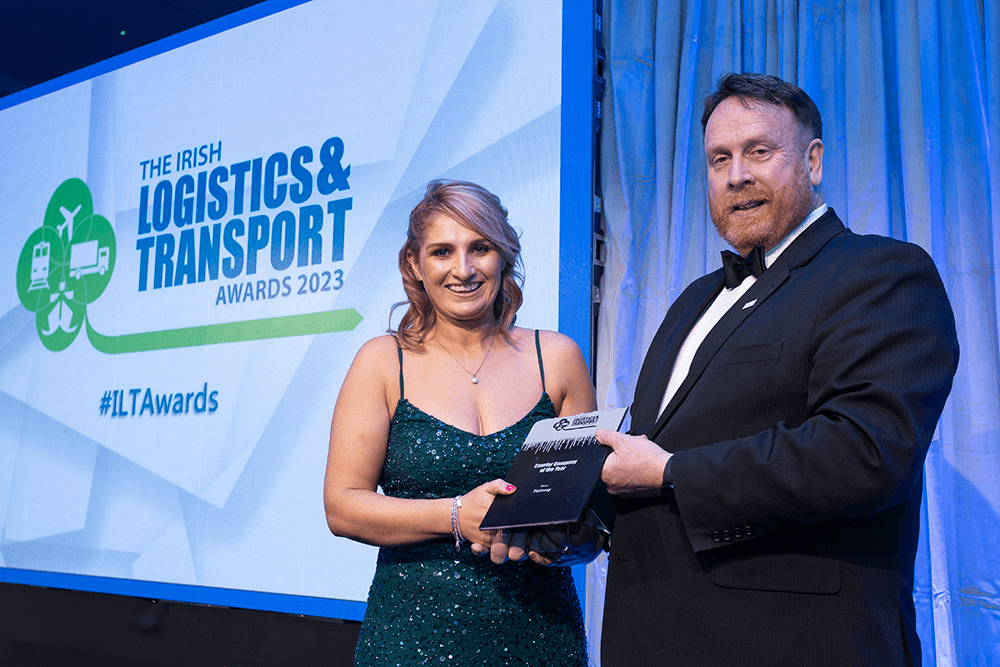 Fastway has won the

"Courier Company of the Year" Award for a

third consecutive year

 

Fastway shortlisted as a finalist for the 'Overall Logistics and Transport Excellence" Award

 

Winning "Courier Company of the Year" Award is a testament to Fastway's dedication to upholding excellent standards and providing superior service to its clients, and parcel receivers

 
Dublin, Ireland – 10th April 2023: Fastway, the leading independent delivery network in Ireland, today announced that it has once again scooped the "Courier Company of the Year" award, at the 2023 Irish Logistics and Transport Awards.  At the same event, Fastway was also shortlisted as a finalist for the 'Overall Logistics and Transport Excellence" Award.  
The prestigious awards ceremony took place in the Crowne Plaza, Swords, Co Dublin, on Thursday 9th April, with Fastway emerging as the winner of the highly coveted "Courier Company of the Year" award. The award was presented to Joanna Lynn, Head of Franchising, Fastway in front of a packed audience of leading brands, peers, and industry leaders, across several industries. The event was also broadcast live, for those who preferred to watch the event remotely. 
The esteemed industry accolade recognised the impressive array of innovative and operational excellence initiatives undertaken by Fastway, its position as a leading courier company and Fastway's unwavering commitment to excellence in the transport and logistics industry. 
"We are thrilled and honoured to have won the 'Courier Company of the Year' award at the Annual Irish Logistics and Transport Awards," said Joanna Lynn, Head of Franchising at Fastway. "This award is a testament to the commitment, dedication, and continued efforts of every person within Fastway to maintain the high standards we set for ourselves." 
"At Fastway, we believe in striving for operational excellence and delivering value to our clients every day. Winning this award acknowledges our unwavering commitment to bringing innovation to the industry and setting ourselves apart from our competitors while exceeding the expectations of the industry," added Lynn. 
The Irish Logistics & Transport Awards celebrates excellence in the logistics and transport sector and encourages teams and individuals to constantly raise the bar, to innovate and maintain their commitment to the sector.